Date/Time
Date(s) - 04/10/15
9:00 am - 12:00 pm
Location
Booth School of Business
Hosted by
The New Republic
Friday, April 10, 2015 from 9:00 AM to 12:00 PM
State and local politicians, especially those whose communities have suffered from the recent spike in extreme weather events, have been far quicker than Congress to embrace meaningful climate change policies. How are state and local actors in Illinois coming together to address climate change and implement new policies? Are these case studies and pockets of success enough to achieve broad-scale climate action in the coming years? What will it take to bring climate change to the forefront of policy debates?
On Friday, April 10, The New Republic, in partnership with the Energy Policy Institute at Chicago, will host The Next Frontier of Climate Change: State and Local Action in Chicago at the University of Chicago Booth School of Business' Charles M. Harper Center.  The program, featuring EPA Administrator Gina McCarthy, will address climate change action and implementation at the state and local level and shed light on the Administration's plan to introduce climate policy in 2015.
Early speaker confirmations include:
Gina McCarthy, Administrator, U.S. Environmental Protection Agency
Amy Francetic, Chief Executive Officer, Clean Energy Trust
Katherine Gajewski, Chief Sustainability Officer, City of Philadelphia
Doug Scott, Former ICC Chair and IEPA Head
Emma Berndt, Executive Director, Urban Energy and Sustainability Lab, University of Chicago
Congressman Mike Quigley, IL 05
Gabriel Pacyniak, Climate Change Mitigation Program Manager, Georgetown Climate Center, and Adjunct Professor, Georgetown Law

Jeffrey Ball, Scholar-in-Residence, Stanford University's Steyer-Taylor Center for Energy Policy and Finance, and Contributor, The New Republic
Michael Greenstone, Director, Energy Policy Institute at Chicago
The Next Frontier of Climate Change: State and Local Action in Chicago will livestream to remote viewers who are unable to join us in person.
Stay tuned for further speaker and programming updates.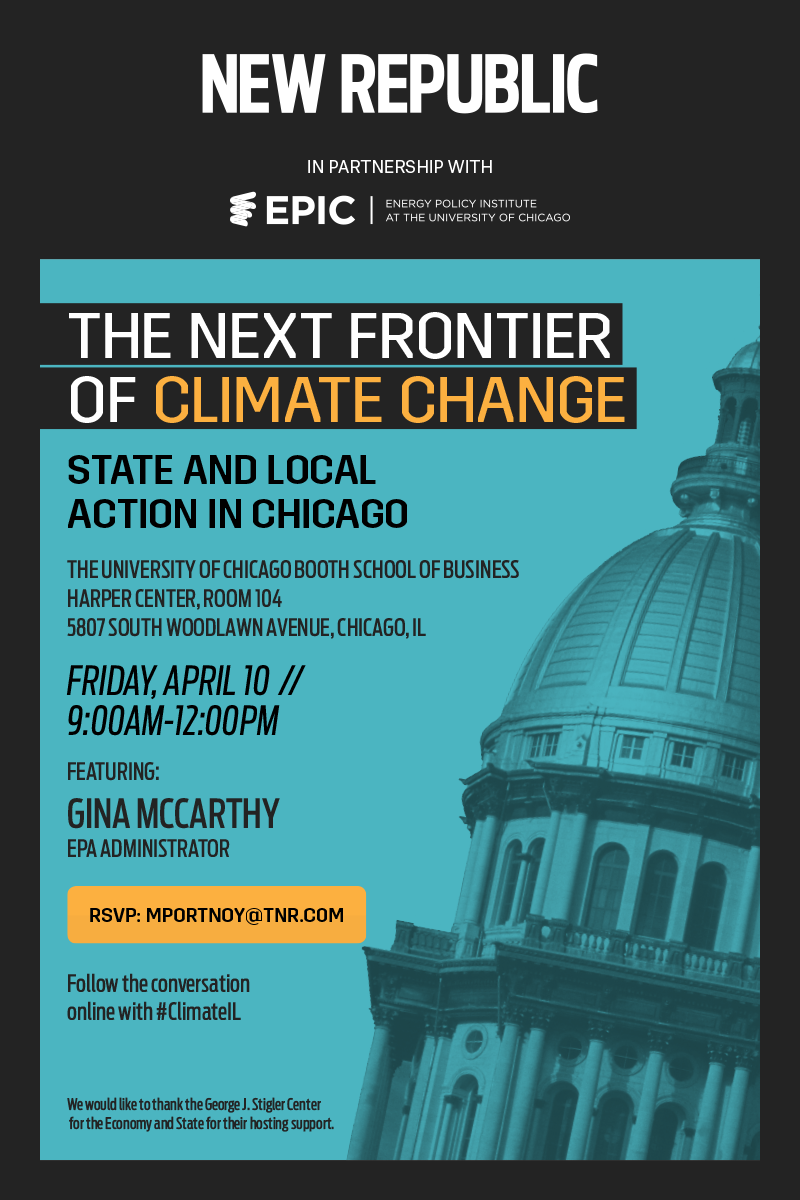 Category(ies)
3094