Date/Time
Date(s) - 12/06/17
6:00 pm - 7:30 pm
Location
Chicago Matter
Hosted by
MATTER
Wed, December 6, 2017 6:00 PM – 7:30 PM
Exercise. Sleep. Social activity. We know that health is influenced by behavior. And yet companies across the healthcare industry struggle to quantify how a person's behavior in the real world affects clinical and economic outcomes.
Deborah Kilpatrick, CEO of Evidation Health, is in the business of real world information.
Evidation Health taps into connected devices to capture behavioral data outside of the clinic. But the startup's true value is in its ability to turn this data into actionable and predictive information.
"Data is just a bunch of numbers," Deborah said during a recent interview. "Information is how you make a meaningful interpretation around an endpoint of interest."
The behavioral information generated by Evidation Health's Real Life Study Platform helps payers, providers, pharmaceutical, and digital health companies generate evidence for digital and traditional interventions, enable value-based pricing, and predict future health outcomes.
Under Deborah's leadership, the startup has raised $31M, and has ongoing collaborations to better understand how behaviors affect pediatric asthma, sleep apnea, neurological conditions, chronic disease, and more.
Deborah will join MATTER for the next Tales From the Trenches to discuss how Evidation Health has upended the conventional approach to measuring the effect of health interventions and predicting patient outcomes.
Agenda:
6:00–6:30: Networking
6:30–7:30: Program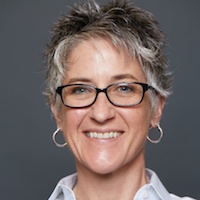 Deborah Kilpatrick, PhD is the cofounder and CEO of Evidation Health, a digital health company backed by B Capital Group, GE Ventures, Sanofi Ventures, Asset Management Ventures, and Rock Health. Evidation Health quantifies health outcomes in the digital era of medicine through medical, behavioral, and contextual data streams in connected populations. Prior to her role at Evidation Health, Deborah was the chief commercial officer of genomic diagnostics company CardioDx, whose Corus CAD product was named in the Wall Street Journal Technology Innovation Awards, TIME Magazine's Top 10 Medical Breakthroughs, and the Edison Awards.
Earlier in her career, Deborah held multiple leadership roles at Guidant Corporation, including research fellow, director of R&D, and director of new ventures in the Vascular Intervention Division. She serves on the Georgia Tech Advisory Board, chairs the Georgia Tech College of Engineering Advisory Board, and is a fellow of the American Institute of Medical and Biological Engineering. Deborah is a co-founder of the MedtechVision Conference now held annually in Silicon Valley, and she has been named to FierceBiotech's Top Women in Biotech, FierceMedicalDevice's Top Women in Medtech, and Silicon Valley Business Journal's 100 Women of Influence. She holds BS, MS, and PhD degrees in engineering from Georgia Tech.
Category(ies)
7876