Date/Time
Date(s) - 05/26/17
9:30 am - 11:00 am
Location
Chicago Matter
Hosted by
MATTER
Fri, May 26, 2017 9:30 AM – 11:00 AM
This workshop addresses these questions: why are TED Talks so engaging? What do venture capitalists and angel investors want to hear? Who is your target audience at the center of changing behavior and making an impact? What are the basic building blocks of "storytelling" and why are organizations identifying it as a core leadership skill?
Peter Durand will teach attendees how visual communication and graphic visualization can help entrepreneurs prototype and brainstorm.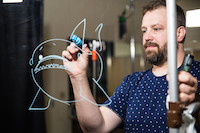 Peter Durand believes that working and learning should be experiential, relevant, and highly visual. As lead facilitator for the Vanderbilt Center for Better Health, a specialized innovation space in Nashville, Durand facilitates large-scale projects in the fields of biomedical informatics, electronic health records, and patient experience. In 1998, he founded Alphachimp Studio Inc. as a graphic facilitation company and in 2012 created Alphachimp Learning Systems LLC to produce explainer videos and to deliver onsite and online training in visual communication and design thinking skills. He has delivered workshops on graphic facilitation and visual communication for NIKE, Deloitte, T. Rowe Price, Cap Gemini, the Maryland Institute College of Art, PopTech Social Innovation Fellows Program, the International Forum of Visual Practitioners, TEDMED, HiMSS, AMIA, and the World Economic Forum.
Category(ies)
6950