Date/Time
Date(s) - 06/21/18
6:00 pm - 8:00 pm
Location
Make Offices
Hosted by
Ziliak Law, LLC
Thu, June 21, 2018 6:00 PM – 8:00 PM
A monthly series of discussions about the technical, legal, and business aspects of blockchain technology and tokenized assets. Each month, experts will speak on topics of interest to founders, investors, and professionals in the blockchain space. All attendees are welcome, from blockchain beginners to those with years of experience working with the technology.
Free pizza and soft drinks will be provided. Attendance is open to the first 100 attendees.
Agenda:
Zach Smolinski: Recent Blockchain Developments
Michael Ott: Economic and Cryptobanking Infrastructure for Mass Adoption
Wulf Kaal: Governance and Reputation in Distributed Systems
---
Meet the Hosts:
Zach Smolinski
Head of Blockchain Practice at Ziliak Law, LLC

Zach Smolinski is an attorney with a strong interest in emerging technologies. His practice areas include the evaluation and negotiation of license agreements and cloud services contracts, IP due diligence for investors and purchasers, and working with company founders and executives to optimize their companies' approaches to intellectual property.
Zach frequently speaks on matters of importance to founders, executives, and investors of technology-focused companies. He is active within the Chicago blockchain community as an organizer of events bringing together a wide variety of contributors in the blockchain space. Zach has a physics degree from Illinois State University and is a graduate of the University of Illinois College of Law.
Zach Ziliak
Managing Partner of Ziliak Law, LLC

Zach Ziliak is an attorney with an extensive background in finance and trading. Zach founded Ziliak Law to focus on servicing a broad range of businesses that can benefit from his industry experience.
Through this purpose-built law firm, Zach is now able to offer a full range of legal services to new, growing, and established companies. Zach has worked on blockchain-related legal matters for over five years, and brings his financial and business acumen to address the regulatory and other legal hurdles faced by founders of businesses utilizing tokenized assets.
Zach earned his law degree at the Loyola University Chicago School of Law. Prior to law school, he completed graduate work in mathematics at the University of Oxford and an MBA with concentrations in finance and strategy from the University of Chicago. He also worked as a "quant" at UBS, a leading global investment bank, and served as head trader at Matlock Capital.
Michael Ott
Head of Business & Corporate Practice at Ziliak Law, LLC

Michael brings a quantitative and analytical skill set, honed over ten years of practicing bankruptcy law at two of the largest law firms in Chicago, to Ziliak law.
Here, he represents clients in all stages of the corporate lifecycle, with a special focus on representing issuers, funds, and exchanges that want to take advantage of the crypto space, counseling them on securities regulations, public and private securities offerings, and formation, economic, and operational issues.
Michael has a Bachelor's degree in Mathematics from the College of William and Mary, with a minor in computer science, and a law degree from Indiana University – Maurer School of Law.
Emily Hayes
Associate at Ziliak Law, LLC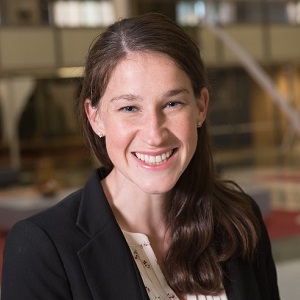 Emily assists Ziliak Law's clients with organizing their businesses, securing capital, and SEC and CFTC compliance. She is also an instrumental member of Ziliak Law's Blockchain Practice. Here, she aids clients in the formation and ongoing compliance of blockchain-focused entities and ICOs.
Emily earned her J.D. from Loyola University Chicago School of Law and her B.S.F.S. from the Georgetown University School of Foreign Service.
Guest Speaker on 6/21:
Wulf Kaal
Wulf Kaal is a leading expert at the intersection of law, business, and technology. His research focuses on blockchain technology innovation, smart contracts, cryptocurrencies, and ICOs. Kaal is an adviser to European and American crypto startups and venture capital funds. Before entering the academy, he was associated with Cravath, Swain & Moore LLP, in New York, and Goldman Sachs in London, UK.
Category(ies)
8688